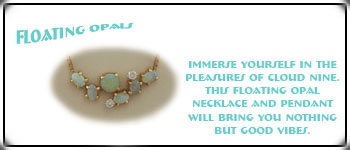 Featured here are many different types of pearls, from all over the world, along with several delicate cameos. Some are nestled in gold, others set simply, and still others come to life! Think I'm kidding? Just check out Rosie, the octopus!

Search: All Pendants | Pendants: Pearls and Cameos


larger image
Rose the Octypus
SOLD
Sometimes, now don't laugh, I make a piece I like so much that the first night of it's creation it sleeps next to me on my nightstand. This happy octypus with her diamond eyes is one such creature.


larger image
Rosie2
$1,200
14K Yellow Gold
And along came Rosie2! She has diamond eyes and is clutching 2 pearls.


larger image
Nested Fresh Water Pearl
$350
14K Yellow Gold
Another fun piece to make requiring lots of molten metal and cold water. Pearls denote purity, honesty, concentration, and serenity. I have this one nested in a bed of gold.


larger image
Amethyst Enhancer with Pearls
sold
14K Yellow Gold
Huge 50 carat amethyst rules on this custom piece. It can be removed and the pearls worn alone or with another enhancer. The combination of pearls and amethyst make for one powerful amulet.


larger image
Cameo
$550
14K Yellow Gold
Traditonally mounted cameo includes the chain.


larger image
Filigree Cameo
$250
14K Yellow Gold
Pretty little cameo set with curly wirework.


larger image
Keishi and Gold
sold
14K Yellow Gold
Keishi pearls, but not drilled the same old same old way! These stack with 14K gold "keishies" and a beautiful baroque pearl is suspened from the pearl strand. The earrings match and complete the set.

larger image
Fresh Water Pearl
$1,000
14K Yellow Gold
Baroque fresh water pearl with 42 points of champagne diamonds as an accent with beautiful taupe and pink hues in this shimmering pearl.


larger image
Baroque Tahitian Pearl
sold
14K Yellow Gold
Shimmering silvers and grays make this classic pearl a real beauty .


larger image
Fresh water Pearl Triple Drop
Sold
14K Yellow Gold
Large, impressive and sold


larger image
Baroque Pearl
sold
14K Yellow Gold
Baroque fresh water pearl with beautiful pink hues. I need to find another one of these beauties!

All Pendants | Pendants: Pearls and Cameos

Continue Searching: Pendants | Pendants: Pearls and Cameos | Bracelets, Pins and More

Earrings | Mounted Coins and Shipwreck Treasure: Coin History | Mounted Coins

Unmounted Coins | Rings | Silver and Name Jewelry | Treasures

Back to: Home | About US | Products | Services | Contact Us