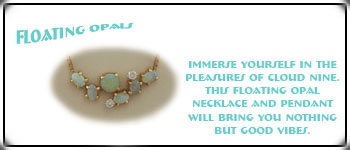 From opals and diamonds
to amethyst and coral,
these classy necklaces come
in all shapes and sizes.

Search: All Pendants | Pendants: Pearls and Cameos


larger image

larger image
The Renotta
Special Order
I have a customer whose husband died very young. She sent me her wedding rings and asked me to do something special with them. I reshaped her ring into a heart where it swings freely inside his ring. This pendant is poignant and embodies the love and protection a man offers a woman, and visa versa. I left all the wear on the rings, it represents all the days and nights this couple was together.


larger image
Coral Fishie
sold
14K Yellow Gold
This carved coral fish with it's diamond eye cavorts among 24 points of diamonds.


larger image
Sugilite Filigree
$600
14K Yellow Gold
Sugilite is said to reduce stress, aid in healing and act as a general balancer of mind and spirit. This piece is a beautiful purple.


larger image
Opal Scroll
$3500
14K Yellow Gold
Huge and thick, this 18plus carat, greyish opal flashes with hints of green, orange, blue and yellow. Opals this big are hard to find.


larger image
Seascape
$1,300
14K Yellow Gold
I love making seascapes almost as much a I like diving them! This one is enhanced by 17 points of diamonds and a 15 point sapphire with an integrated chain.


larger image
Filigree Opal
$300
14K Yellow Gold
Lainie's version of filigree surrounding a pretty little opal.


larger image
Chrysocolla Drusy
sold
14K Yellow Gold
Gorgeous drusy accented with more than a half carat of blue sapphire.


larger image
"Jolly Mon Sing"
$600
14K Yellow Gold
I actually had wild dolphins come swim with me once; I think they were making sure I was OK. I was diving a coralhead and my husband had taken off in search of more-and I was all alone out in the middle of nowhere. It was awesome.


larger image
Bacchus
$600
14K Yellow Gold
Ahhhh, Bacchus. God of wine and madness. Who could ask for anything more?


larger image
Seascape on Lapis/Auzarite Stone
sold
14K Yellow Gold



larger image
Fire Agate
$600
14K Yellow Gold
Fire agate's qualites are associated with courage, protection, and goodness. It helps the timid become more self-expressive and treats burns and eyes disorders. This one is set with Lainie's lacy goldwork as the bezel.


larger image
Pau D'Arco Amethyst
Sold
14K Yellow Gold
Coming from Brazil, Pau D'Arco amethyst is the finest in the world. This enhancer is 11ct total weight of beautiful deep purple with reflections of violet red. There is an accenting 10 point diamond. Amethyst is associated with spirituality, inner peace and is said to help break bad habits and treat headaches.


larger image
Fantasy Cut Amethyst
$500
14K Yellow Gold
14.5 total weight of amethyst can be worn frontward or backward, my partners are always turning this one around in the case!


larger image
Anchor
$2000
14K Yellow Gold
I never quite understood why the Navy uses a symbol of a fouled anchor, but OK, they do look fancier that way! This one sports a fouled chain AND a 41 point diamond.


larger image
Floating Opal and Diamond Neckpiece
$700
14K Yellow Gold
Old wive's tales! Anyone can wear and opal without bringing on bad luck. They infer love and passion, loyalty and faithfulness, warmth and peace. These float in a pendant along with 4 points of diamonds.


larger image
Floating Rainbow Moonstone and Tourmaline
$1300
14K Yellow Gold
Moonstones represent, among many other things, happiness, good fortune and new beginnings. Tourmaline is associated with peace, balance and eloquence.


larger image

Emerald Eyes are Smiling Seascape
$750
14K Yellow Gold
I love making these seascapes. It's fun to form the gold into entwining coral sculptures.


larger image
Labradotite Drop
sold
14K Yellow Gold
A long teardrop of labrdorite to enhance your psychic abilities and occult powers. Plus, it's pretty. Chain included.


larger image
Carved Amethyst
$950
14K Yellow Gold
Lainie's trademark filigree work with a flower motif carved amethyst as the center stone.


larger image
Briar Cross
$1,050
14K Yellow Gold
Reminiscent of The Crown of Thorns worn by Jesus. This cross is a 1/4 of an inch thick and has 25 points of daimond. I can recreate this mount but someone stole it from my gallery! Can you imagine the Karma????

Continue Searching: Pendants | Pendants: Pearls and Cameos | Bracelets, Pins and More

Earrings | Mounted Coins and Shipwreck Treasure: Coin History | Mounted Coins

Unmounted Coins | Rings | Silver and Name Jewelry | Treasures

Back to: Home | About US | Products | Services | Contact Us