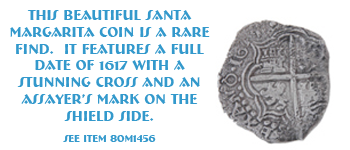 All the coins and artifacts seen here are the real thing. They come from four main treasure ships: The Nuestra Senora de Atocha and the Santa Margarita, the 1715 Plate Fleet and the Isla del Muerto. The first two ships sank of the coast of the Florida Keys; the Atocha and the Santa Margarita going down together during a hurricane in 1622. The Plate Fleet sank off the coast of Sebastian, FL, in 1715, and the Isla del Muerto went down in the late 1600's off the coast of Equador. The now broken and scattered ships have been found only recently by divers and adventurers. Indeed, Lainie's husband, Mike, has captained the Dauntless, one of the ships used to recover the strewn artifacts of both the Atocha and the Santa Margarita.

Spread over miles of ocean floor by the numerous hurricanes over the last several hundred years, these artifacts are painstakingly brought up from the depths and even more painstakingly restored and mounted in 14k gold. They are here for you to enjoy a piece of history!

The coins are graded in quality from Grade 1 (being the finest) to Grade 5. The denominations (sizes) range from 8 reales (largest) to 1/2 reales (smallest). GR2 2R means the coin is a Grade 2 in quality and a 2 reales. Most of the coins were minted at the Potosi Mint in Peru, some at the Lima Mint and still others in Mexico. The Assayer mark (if visible) is just under the mint mark on the left side on the obverse of the coin.


These coins are shown as close to their true size as possible with a link to a larger photo to show detail.

Continue Searching: Pendants | Pendants: Pearls and Cameos | Bracelets, Pins and More

Earrings | Mounted Coins and Shipwreck Treasure: Coin History | Mounted Coins

Unmounted Coins | Rings | Silver and Name Jewelry | Treasures

Back to: Home | About US | Products | Services | Contact Us